Spend your cash and get some back!
Buy anything you want and get back up to 50% back easily! Join thousands of users who already save on their purchases every day!
INSTALL EXTENSION

Guarantee
Successfull operating in the USA, Russia, and Vietnam for many years!

Highest Rate
Baack.com customers always get higher cashback rate compared to other similar services. Get back up to 50% at your favourite online stores!

Withdrawal
Quick money transfers to your bankcard, account, or an electronic purse!
More than 100 best stores!


Step-by-step

Sign Up
Sign up to Baack.com cashback service

Install
Install Baack extension to your browser

Select
Select a store you like and head over to it

Purchase
Choose product and purchase it in the store

Confirm
Confirm reception of the item and get a cashback

Withdraw
Transfer money from your Baack.com account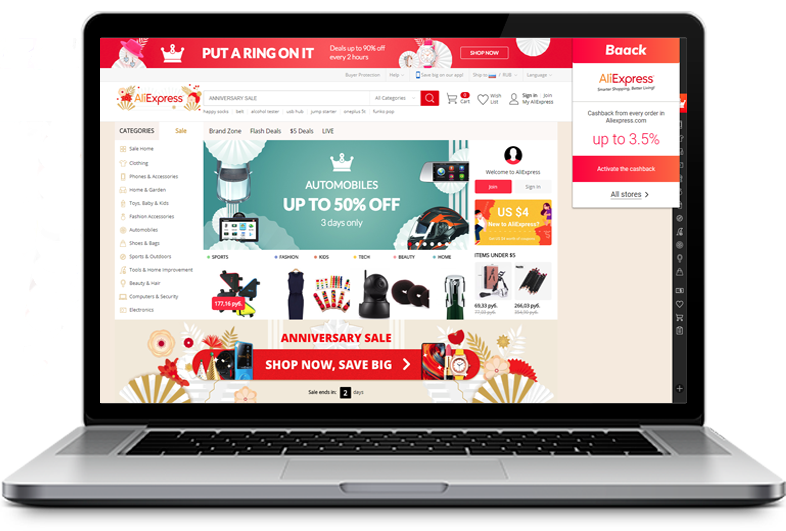 Download and install Baack.com plug-in for your browser and get additional options
The best stores' offers will always be available to you! You will instantly see if Baack.com service is active at an online store. Besides, the extension for your browser guarantees that the store has verified you and you will get your cashback for sure.
Customer Reviews

Paula
"I've found Baack.com service quite recently but I've already made several purchases. It works really cool and fast. Never had any issues. I forwarded the money to my phone. It was handy!"
$1790
Spent on purchases at partner stores
$140
Money paid back under the cashback system

Anna
"I like saving when I buy something. Besides, I buy things online quite often. The service is really simple. No need to do any extras. Just sign up. Then you can head over to a store and enjoy real money bonus from every purchase you make."
$912
Spent on purchases at partner stores
$60
Money paid back under the cashback system

Olavu
"Wow, I had no idea about a system where you can get a part of the money you pay for a purchase back! My favourite store is a part of your partner scheme. I placed an order there, paid full price and got whopping 11% back! I've already learned how the things work and want to keep using it. Thanks!"
$346
Spent on purchases at partner stores
$25
Money paid back under the cashback system

Melina
"Previously I used other cashback service. I don't want to tell which one but it offered a better choice of stores. However, Baack.com is handier and simpler. I got my workmates hooked on this service as well. They signed up through the partner program and now I get a bonus from their purchases too. Good for me! :)"
$5300
Spent on purchases at partner stores
$325
Money paid back under the cashback system

Arthur
"I regularly order products from China in bulk online as I own a retail business and sell bags. The cashback rate is quite decent. It's enough to pay my taxes. The only improvement proposition I have is that you should add more purses for the UK. All other aspects are fine!"
$3050
Spent on purchases at partner stores
$440
Money paid back under the cashback system


F.A.Q.
What is cashback?+

It literally means getting your cash back. It's the part of the money you pay making a purchase (usually denoted as a percentage) which a store refunds the buyer as a reward for selecting their particular store. Cashback is paid in US Dollars (Brazilian Reals/EURO/currency accepted by a store). It is not some reward points or other units. It's real money which can be withdrawn or reused for further online purchases. It should also be noted that if a store cooperates with a cashback service it does not mean that it artificially increases the price to the sum of the refund. You buy an item at the price paid by any other buyer who does not use cashback.

Why do stores pay you a cashback? +

Cashback service is a simple and transparent system which all three parties can benefit from. Cashback service is attractive to the buyers thanks to the opportunity to save on purchases at various stores. A store pays cashback service for the customers the service attracted and the service shares this amount with the buyer. Hence, the buyer enjoys a discount, cashback service gets the money, and the shop sells its stock. This makes cashback a win-win business!

How to buy using cashback? +

First, you need to sign up to Baack.com cashback service. It won't take long! After logging into your personal account, head over to the "Stores" bookmark and select the store where you want to buy something. Click on it and go to the online store website, make a purchase, pay for it using any available option. It does not affect your eligibility to receive cashback. You will see the amount of cashback in your account within 30 minutes. It will become available for withdrawal shortly. Please note that the following conditions have to be observed to be sure that you get your cashback: 1.Prior to using cashback service Baack.com you have to delete all previously saved cookies of other add-ons. 2.There must be no plug-ins of other cashback services installed on your device. 3.In order to make a purchase, you have to head over to the store website only using Baack.com website or a plug-in which has already been installed.

How to make sure that the store will pay you a cashback? +

There are two options allowing you to identify whether an online store is a partner of the Baack.com cashback system. Option one – log into your personal account, select bookmark "Stores" and check if the store is there. Option two is handier. Install an extension for your browser. It will be seen in the corner of the address bar. Every time you go to the website of any online store the extension window will pop up showing you whether you will be able to get a cashback or not.

We use "cookies" for your convenience and efficiency with our site. For details about personal data collection and the use of cookies, see the Privacy Policy section.